Workplace Safety
Safety 6S is a philosophy applied in every AstenJohnson workplace. It is a visual system designed to reduce waste and quickly identify areas of improvement and maintain safety standards. Using the 6S system leads to more consistent results, as well as a safe, efficient and productive work environment.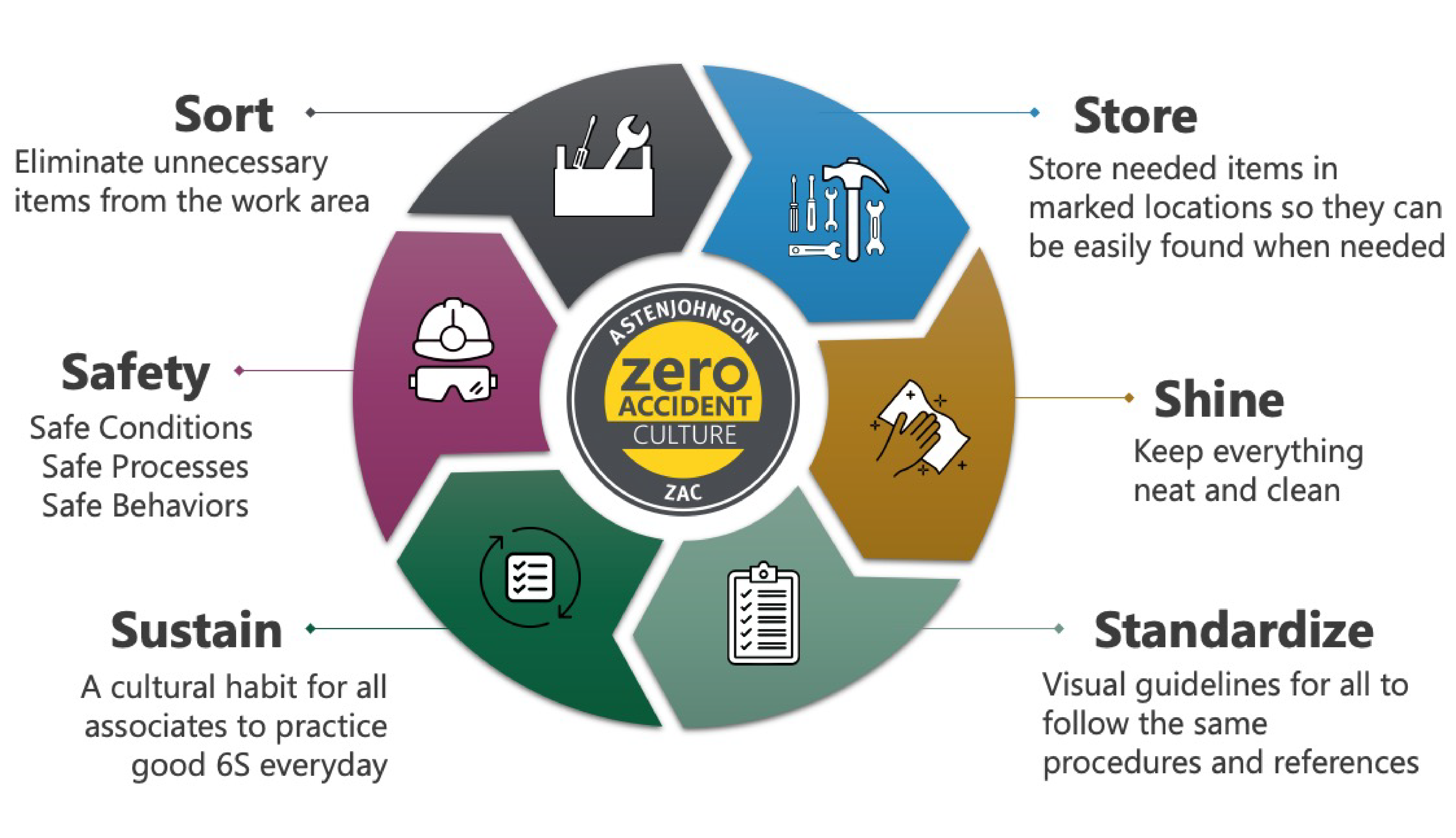 AJSafetyCheck360 App
---
ZAC Safety applies also for our extensive network of field- based Sales and Service associates. Whether traveling to or performing work at our customer's facilities, our team members have a digital app to guide them safely in their work, and to provide assessment feedback.
The app contains tabs for Job Hazard Analysis (JHA) guidance for work tasks, incident reporting, vehicle safety and care, and content related to safety in the work environment commonly encountered.
With the AJSafetyCheck app, AstenJohnson field-based Sales and Service are always well connected with ZAC Safety.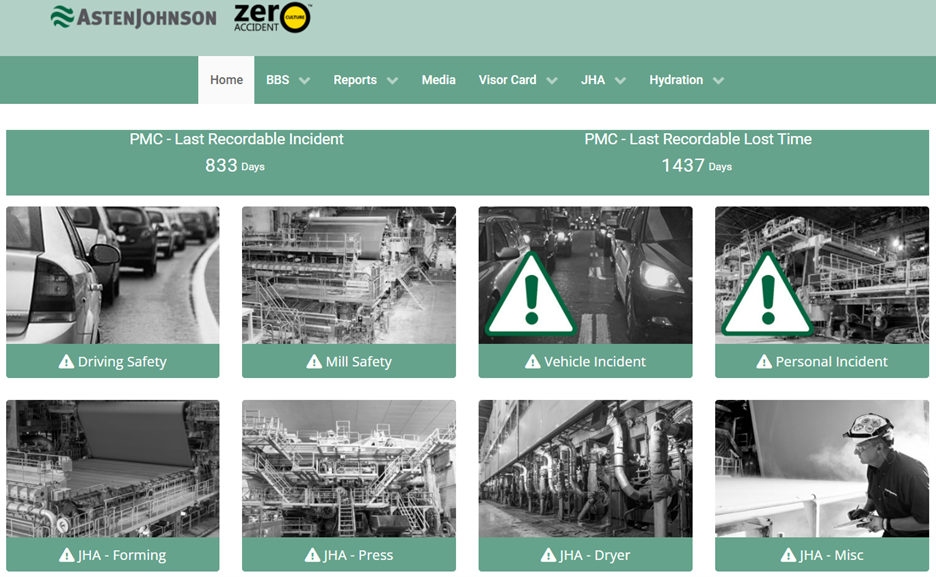 Reducing Loss
---
Workplace safety at AstenJohnson includes associate well-being, and ensuring against property and business function loss. These losses risks include cybersecurity, severe weather, and fire loss to name a few. Our maintenance team experts work with risk engineers from our property loss insurer to assess our risks, prepare comprehensive reports with recommendations, and work together to implement corrective actions, both management and capital investment focused.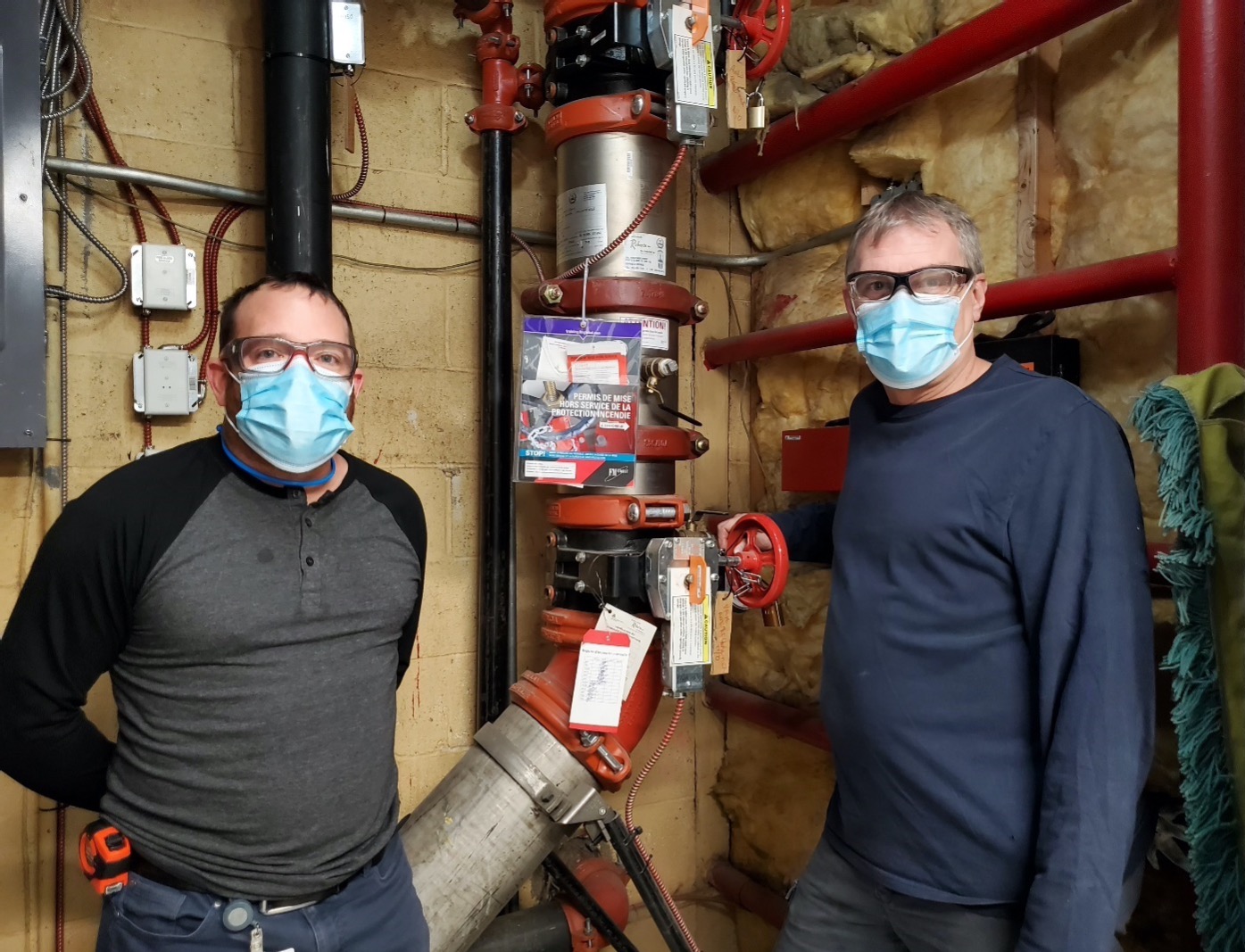 Well designed and maintained fire sprinkler systems area a major component of a facility loss protection system. Christian Bourgon and Pierre-Paul Pilon ensure our Valleyfield QC facility sprinkler system meets all national fire code requirements for inspection, testing, and maintenance.
Success Stories
---
Clinton Safety Recognition - 2021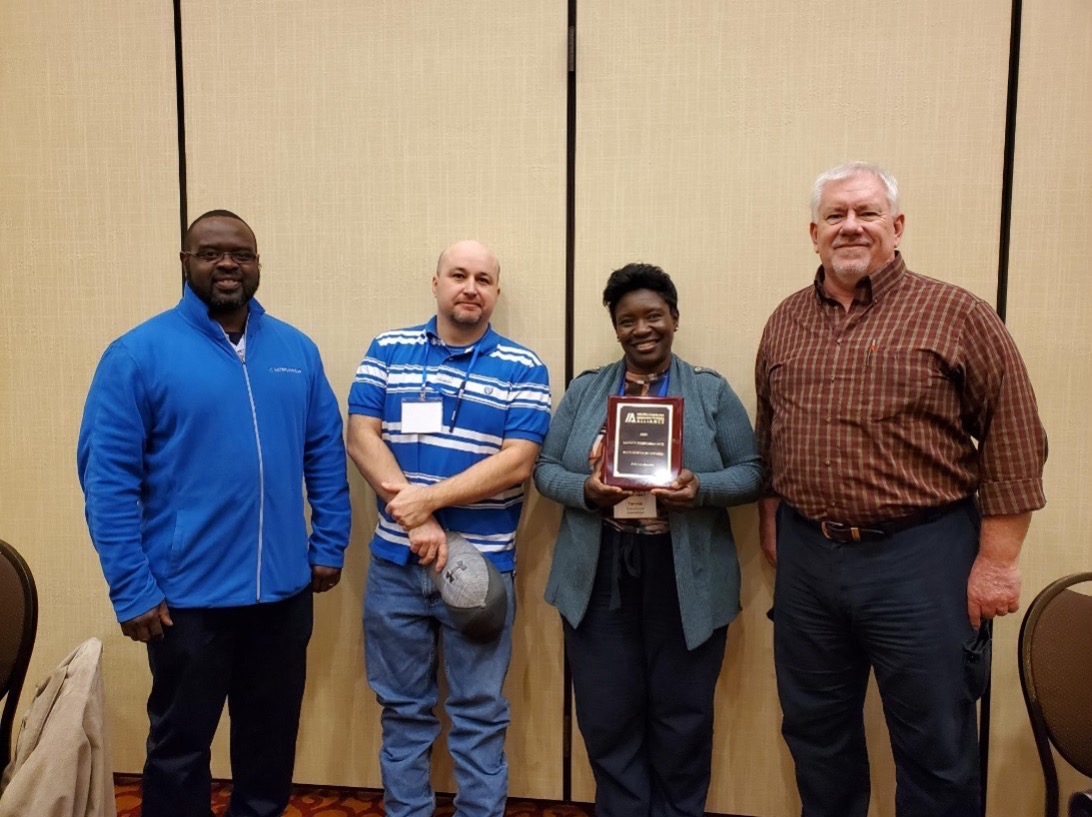 The South Carolina Manufacturers Alliance (SCMA) recently recognized top industrial facilities throughout the state of South Carolina for their outstanding workplace safety accomplishments during 2021. Awards were presented during the annual Safety Summit held in Spartanburg, SC March 16, 2022.
Facilities with a low rate of incidents that result in lost workdays, job transfers, or restrictions were nominated for recognition. Plants with an incident rate below the state-wide average for their NAICS code earned the award.
The AstenJohnson Clinton site is honored to receive this award for the 4th consecutive year thanks to all of our associates taking safety seriously in their day-to-day activities. The PASS safety observation system, team meetings, training, and ZAC safety awareness all contribute to a safer workplace.
---
Facility Risk Assessment
At AstenJohnson, workplace safety includes risk assessment for both human impact and facility impact. Facility impact risk assessment is done in collaboration with our property loss insurer. Professional risk engineers review our facility structures for severe weather durability, fire suppression systems, boiler safety, maintenance systems, and many other areas to ensure we are operating safe facilities with respect to potential property loss, or major operational downtime loss.
Our Valleyfield QC site led by Maintenance Team Leader Christian Bourgon recently worked with external risk engineers and heating system experts to make several improvements to improve the facility risk index score. Improvements included both human systems and upgrades to the existing fire suppression system. With these improvements our facilities are safer for both incident prevention and potential incident loss.